YLG-2058 Industrial Online Residual Chlorine Analyzer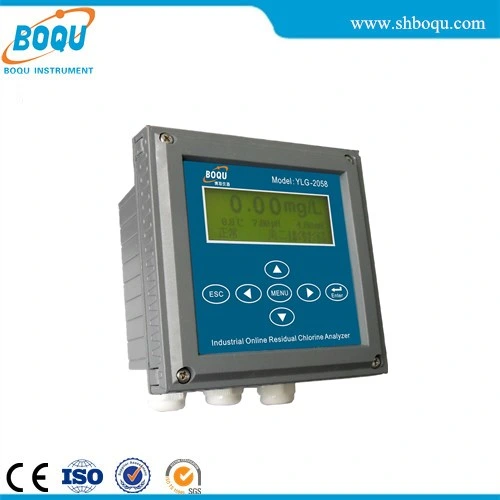 YLG-2058 Industrial Online Residual Chlorine Analyzer is a bran-new residual chlorine analyzer in our company; It is a high-intelligence on-line monitor, It is made up of three parts: a secondary instrument and a sensor, a organic glass flow cell. It can measure residual chlorine, pH and temperature simultaneously. It can be widely used for continuous monitoring of residual chlorine and pH value of various water quality in power, water plants, hospitals and other industries.
English Display, English Menu operation: Easy operation, English prompts during the whole operational
procedure ,convenient and quick.
Intelligent: It adopts high-precision AD conversion and single chip microcomputer processing technologies and
can be used for the measurement of the PH values and temperature, automatic temperature compensation and
self-checking etc function.
Multi-parameter display: On the same screen, residual chlorine, temperature, pH value, output current, status
and time are displayed.
Isolated current output: Optoelectronic isolating technology is adopted. This meter has strong interference
immunity and the capacity of long-distance transmission.
High and low alarm function
Technical Indexes
1. Measuring range:
Residual chlorine: 0-20.00mg/L , Resolution: 0.01mg/L;
HOCL: 0-10.00mg/L Resolution: 0.01mg/L;
pH value: 0 - 14.00pH Resolution: 0.01pH;
Temperature: 0- 99.9 °C Resolution: 0.1 °C
2. Accuracy: Residual chlorine: ± 2% or ± 0.035mg / L, take the bigger;
HOCL: ± 2% or ± 0.035mg / L, take the bigger;
pH value: ± 0.05Ph
Temperature: ± 0.5 °C (0 ~ 60.0 °C);
3. Sample temperature: 0 ~ 60.0 °C, 0.6MPa;
4. Sample flow rate: 200 ~250 mL/1min Automatic and Adjustable
5. Minimum detection limit: 0.01mg / L
6. Isolated current output: 4~20 mA(load <750Ω)
7. High and low alarm relays: AC220V, 7A;
hysteresis 0- 5.00mg / L, arbitrary regulation
8. RS485 communication interface (optional)
It can be convenient to computer monitoring and communication
9. The data storage capacity: 1 month (1 point/5 minutes)
YLG-2058-01 Polarographic residual chlorine sensor electrode
Typical applications
Suitable for drinking water, industrial process water disinfection technology residual chlorine concentration online monitoring, can also be used for swimming pools and other places chlorine concentration measurement.
Measuring principle
Chlorine is a diaphragm-type polarographic electrode (clark) sensor, integrated by the cathode, anode, electrolyte and cathode covered with a layer of gas permeable film. In the test solution, residual chlorine diffuse through the membrane to the cathode, a suitable polarization voltage between the cathode and the anode can deoxidize residual chlorine at the cathode, such chemical reaction with chlorine in solution is proportional to the current measurement.
Features
Responsive, high accuracy, good stability.
Simple operation, easy maintenance.
Applicable to a variety of media, durable film , pollution resistant.
Technical Indexes
Measurement

HOCl / chlorine

A little HOCl / chlorine

Measurement Range

0.05 ~ 20ppm HOCl

0.01 ~ 5ppm

Polarization time

first time 30min

first time 90min

second 10min

second 45min

Response time

90% <2min (room temperature)

95% <5min (room temperature)

Temperature range

2 ~ 45 ºC measurement

Minimum flow rate

200 ~ 250ml/min, circulation flow can not be less than 30L / h

pH range

4 ~ 8.2pH

Pressure range

0 ~ 1bar

Temperature compensation

thermistor resistance customized by the user

Electrode cable

3m high impedance and low noise shielded cable

Electrode dimensions

diameter 20mm, length 70mm

Electrode Material

316L stainless steel shell, POM membrane cap, PTFE membrane