Portable Oxygen O2 Meter Single Gas Detector Gas Alarm Tester Detector 0~30% VOL
FEATURE OF OXYGEN
There are three main risks to gas in confined spaces.
The risk of asphyxia: in confined spaces the air renewal is very rare or even inexistent. The oxygen rate is often below 19,5%, which is the minimal non-hazardous rate. As the confined spaces are poorly ventilated, people working in rejects carbon dioxide (CO2) replacing oxygen.
The risk of hypoxia: confined spaces like tanks, crawl spaces and sewers contain a lot of hazardous gases. These last ones have hypoxic properties, which means that they avoid the oxygen supply that is necessary for the proper functioning of the human body.
The risk of explosion: as oxygen (O2) is a combustion agent, combustible and flammable mixtures may occur in confined spaces.
Portable single gas detector Oxygen (O2)
Before entering a confined space, it is essential to draw gas samples with an O2 gas detector and a specific sampling pump.
Portable Oxygen O2 Meter Single Gas Detector Gas Alarm Tester Detector 0~30% VOL
If the only hazard is the lack of oxygen (O2), an O2 gas detector like our model CYH30 allows real time measures of the oxygen hazardous concentrations.
If other gases are likely to be present, a multigas detector like our model CD4 is highly recommended (combustible gases, O2, CO et H2S).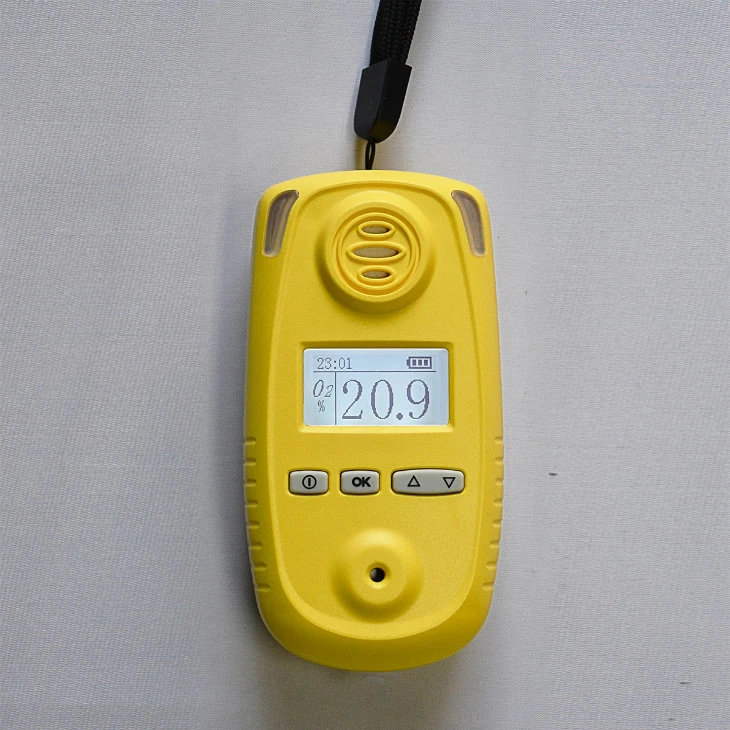 Display & Specifications
Portable Oxygen O2 Meter Single Gas Detector Gas Alarm Tester Detector 0~30% VOL
-Easy to read LCD display with backlight
-Clear indication of operating status
-95dBA audible alarm
-Striking twin red/blue visual alarm
-Optional vibrating alarm
-High and Low levels of instantaneous alarm
-TWA alarms
-Tough polycarbonate housing
-Full elastomeric overmoulding
-High impact resistance
-IP65 compliant
-Optional 9000 reading data logging storage capacity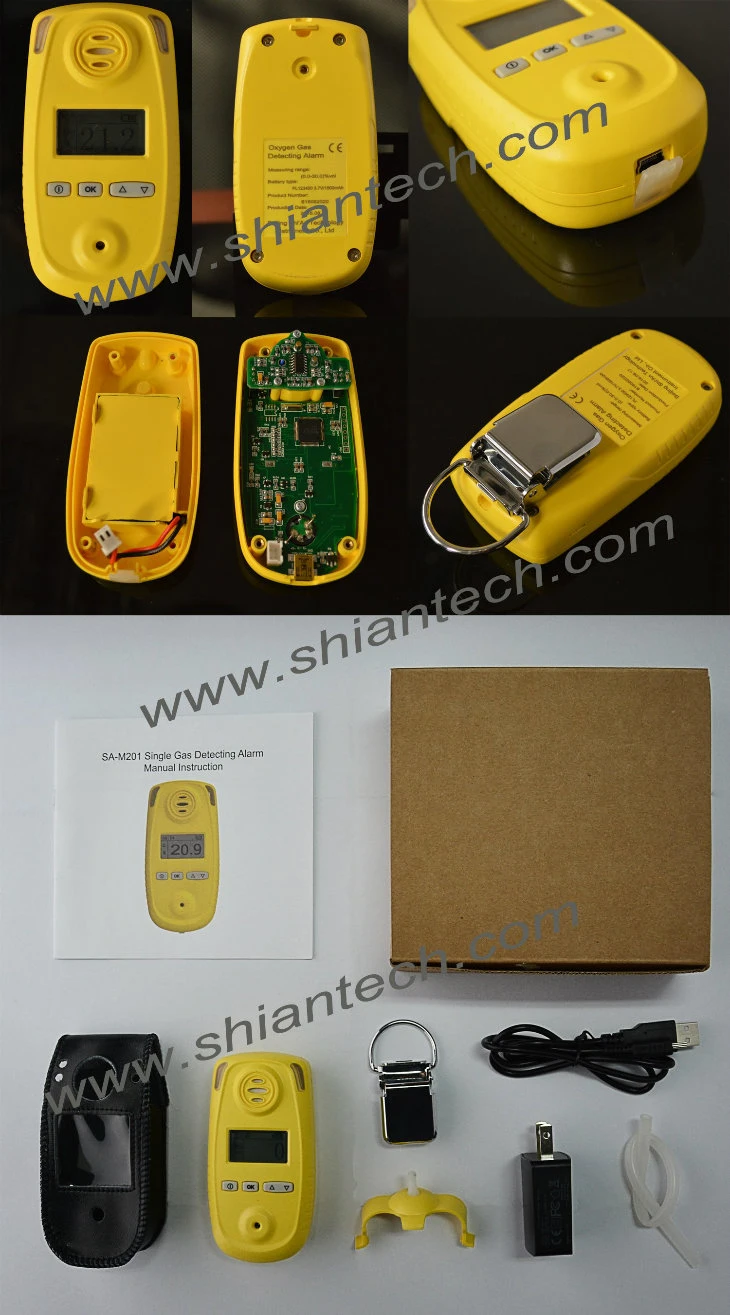 * Common ranges: (0.0-30.0)%vol; (0-100)%vol
Series

SA-M201

Battery

Rechargeable lithium

Sensor type

Electrochemical

Charging

By AC adapter or 5V USB port

Sensor lifetime

≥24

months

Charging time

4~5 hours

Respond time

≤

20s (T90)

Continuous working time

>

12h

Alarms

LED alarm

≥

20cm

Working temperature

'-25

ºC

~ +55

ºC

Buzzer alarm

≥

95dB, 30cm

Short time: -40~+55

ºC

Low power alarm

Ex proof

Yes

Alarm threshold

Fully adjustable

Sampling

Natural diffusion

Display

Energy saving LED

Size & weight

105*54*32mm, 200g

LCD reading

Real-time concentration, battery indicator, date

IP degree

IP54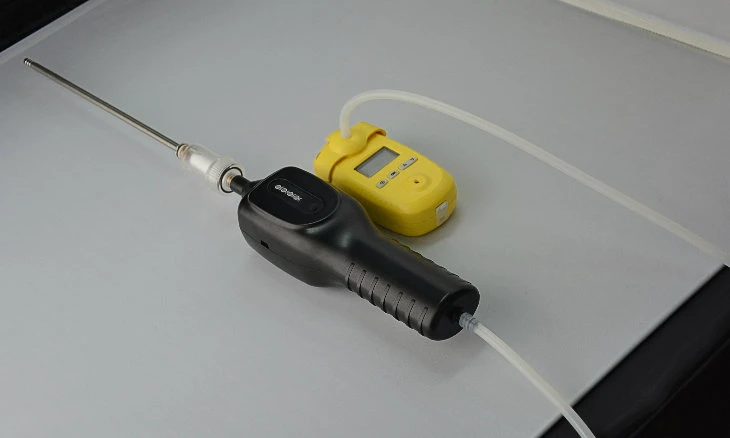 About Us
Design & Moulding --with 14 years' experience, we make solidest and most practical products
Stricter quality inspection--we persue higher accuracy
Customization--we customize the exact product in your heart
Only focus on gas detector--we think more and deep and offer the best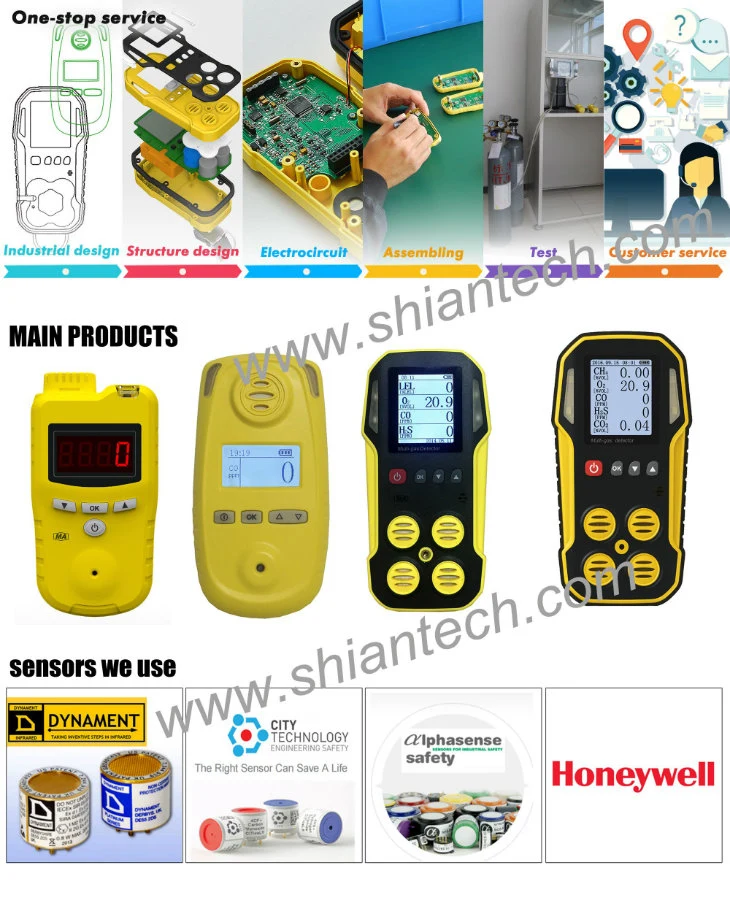 Company profile:
Beijing Shi'an Tech Instrument Co., Ltd is grown out of Beiijing Dashiweye Technology Co., Ltd, and it's engaged in designing and manufacturing portable gas detectors.
Beijing Dashiweiye Tech, with website of shiantech.en.made-in-china.com, is established in 1997, it focuses on designing, moulding and manufacturing for enclosures of electrical instruments.
Portable Oxygen O2 Meter Single Gas Detector Gas Alarm Tester Detector 0~30% VOL