PH-3 Pen Type pH Meter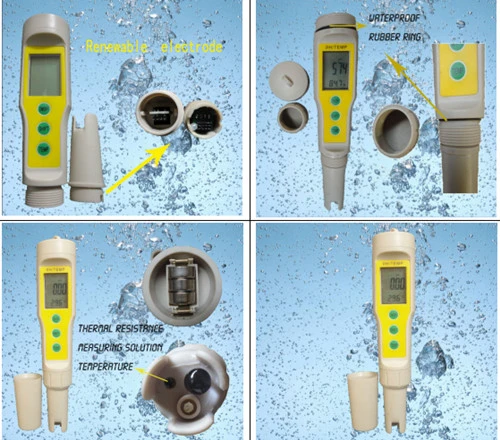 Specifications
1.Measuring range: PH: 0.00-14.00 PH
T.: 0.1°C-80°C
2.Resolution: PH: 0.01PH
T. : 0.1°C
3.Precision PH: +/- 0.01 PH
T. : +/-0.5°C
4..Automatic temperature compensation: 0.1°C-80.0°C
5.Battery: 3 *1.5 V( AG-13 button cell)
6.Operation temperature: 0---80°C
7..Calibration: Automatic two point calibration
8.Auto shut off function: 4 minutes
9.Size : 183mm*37mm*37mm
10.Weight : 80g
Operation Steps
1.Remove the protective sleeve
2.Clean the Electrode with distilled water and wipe clean the spare water.
3..Press the "ON/OFF" button .Turn on the meter.
4.Immerse the PH meter electrode in the solution
5. Lightly shake the meter, read the data when the numeric stabilized.
The temperate displays at the bottom of the screen .
6. Press the "ON/OFF" button to shut off the instrument .
Clean the electrode with pure water , cover the electrode protective sleeve.