Why should I choose the Coding Array kit when I start coding?
The Coding Array learning kit is connected to circuits on the board, including the (Arduino Uno-Compatible) and the sensor and actuator module used for coding or physical computing training. The Coding Array kit is electrically connected, allowing you to focus on coding.
Available without complex jumper cables, saving time to connect to the circuit in coding training, and providing safety benefits for beginners and elementary school students. After training, modules can be removed from the kit and used for various projects.
'Coding Array Kit' is designed to learn easy and convenient for all users regardless of the level of technical skills or knowledge in coding, and conducted rigorous performance test during Closed Beta prior to product launch. It has now provided a quick and appropriate instructional coding device 'Coding Array Kit' series for beginners.
The Coding Array kit for Arduino beginners is a learning product based on algorithm practice and sensor-actuator experience that improves user experience that has been inconvenient due to existing complex jumper wires and breadboard.
Communicate & Design for Coding Array Kit, Let's meet Coding Array Kit that actively reflects on your opinion and feedback.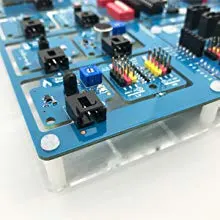 All in one & built-in
The all-in-one solution for Coding Array UNO (Arduino UNO R3-Compatible), Sensors and Actuators
These integrated boards can save time in learning the most important algorithms in coding, and they can save time in debugging and jumper wire configuration that occurs in hardware configuration.
Can a separate module be added when the sensor and actuator are secured to the coding array kit?
The answer is okay.
he I/O shield below the Uno platform is connected 1:1 to the Uno platform and can be configured very quickly as an additional module of the extension header pin.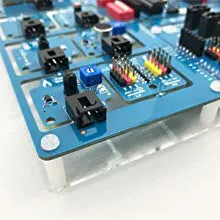 Connector Sockets & Level shifter built-in
Connector Sockets

Easily connect with a dedicate wire after module removal
Bi-directional level shifter
Able to connect with 3.3V Bluetooth or WiFi Module
Safety of use
There is an acrylic base on the bottom of the Coding Array kit, so there is no risk of electronic short and
board break during coding. Both use and storage are conveniently designed.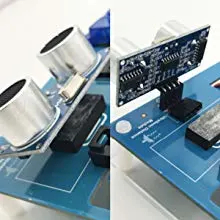 Ultrasonic sensor connector for vertical and horizontal use
Add anti-shake sponge & connector for front measurement
One vertical connector plus one horizontal connector are provided to position ultrasonic
waves horizontally or forwards.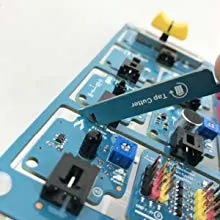 TAP CUTTER
Detach required modules with a tap cutter from the I/O Shield after the introductory process is completed
If you have mastered enough sensors and actuators in the coding array kit, do not store them in the warehouse
and carry out your own projects separately.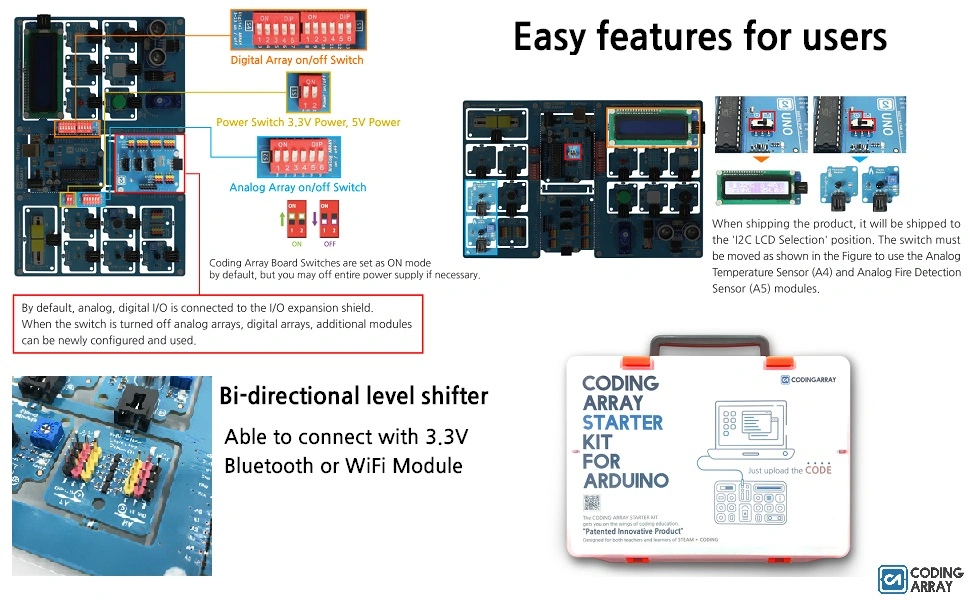 Another Advantage of Coding Array Kit
The additional module configuration (e.g. Bluetooth, WiFi Module, etc.) on I/O Shield Board is freely
available at the flick of Coding Array Kit Board Switches.
Bi-directional level shifter : Able to connect with 3.3V Bluetooth or WiFi Module
Coding Array Kit Case : High-quality plastic casing with handle for storing coding arrangements and associated parts